I have to say I LOVE all things Brooks. I love that they are making cuter clothing for women! I love that they support me and my goals! I love that they are so involved in the running community and are helping to sponsor our Mountain to Fountain 15k! *sigh*
I just recently received some new items. The first is this Diva jacket.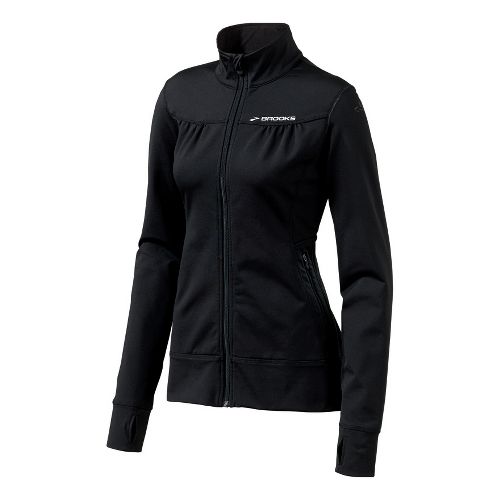 Seriously, how fun is it? I ordered the small and it fits really well. The only area it is slightly big in is the chest area. But that is my own problem. 🙂  There is black, (shown above) pink, and my favorite-light blue.
Not only do I love the color, but this jacket also has the thumbholes that I love! I wore this for a 16 mile run last weekend and worried that I would get too warm, especially when the sun came up! I was perfect in it. The fabric was light enough to keep me cool and it wicked the sweat away. Brooks, you have a winner!
In this pic, along with my Diva jacket, I am also sporting the Glycerin shorts in XS. Brooks shorts tend to run a little big for me, this bootie is definitely bigger than an XS. 🙂 The shorts are super comfy, I love the fabric. I wish they were a tad shorter though. However, I love the way they look with the jacket, and they are perfect for strength training at the gym!
Next up are the new Ravenna 2's. The original Ravenna's were a perfect match for me. (They are now on sale here!!!) I am still getting used to the 2's. They are the same weight as the originals (9oz) but they just feel a little more clunky for some reason. Maybe I just need to break them in a bit more. My heels are not too wild about them either, but like in any good relationship, only time will tell.
I wore the Green Silence in my relay yesterday.
I really need to save those for shorter distances. They give the tops of my toes on my left foot blisters for some reason. I never, ever, have any blisters, black toenails, or anything like that so that is a mystery to me. Just shows I need to stick with my beloved ST 4's. They are so dreamy. However, they are also on sale and out of my size! GASP! I might have to make room in the family for these. I am guessing this is what Brooks is replacing my loves with. I have to say, I love the color on them! Nice and bright!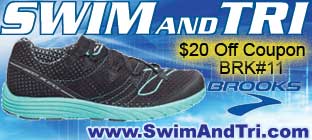 I am receiving another shipment of lots of fun Brooks things this week, so I will report back!
Run Happy!